Walter Tharp's family has operated the Alma Plantation and Sugar Mill in Pointe Coupee Parish, Louisiana since the mid-1800s. "It's almost 160 years that it's been in my family," he says. From an agro-industry standpoint, it's an operation which churns out 400 million pounds of sugar and 10 million gallons of molasses annually. Shifting sights to spirits was only natural, and it gives the Cane Land Distilling Company, set to open later in 2016 as one of the first distilleries in Baton Rouge since Prohibition, an advantageous jump-off point.
Alma Plantation has been in Walter Tharp's family for 160 years. All photos via Julie Stewart.
"It's just kind of a natural fit," says Tharp. "Having access to the milling process is something that's pretty unique in craft spirits."
Tharp co-owns Cane Land alongside Jim Massey. The two enlisted Hubert German-Robin to serve as Master Distiller for the operation, and they plan to capitalize on their distinct positioning. "We're hoping to be a single estate bottled spirit, which is pretty rare," says Tharp.
The sugarcane harvested at Alma will be used in Cane Land's rhum agricole, a cane juice rum that originated in the French Caribbean. Photo: Julie Stewart.
Cane Land will offer a diverse lineup of spirits that includes agricole-style rhum distilled from cane juice, molasses-based rum and other spirits like vodka, gin and American fruit brandies. But it's the rhum agricole that will likely set them apart.
"One of the reasons you don't see [rhum agricole] that much in the United States is that people don't have access to that milling process," explains Tharp. "When you're making agricole, it's fresh pressed cane juice. As soon as you press that cane juice, it starts the fermenting process. Within a couple of hours, you basically have a rotten product if you don't distill it immediately.
The fresh-pressed cane juice used in rhum agricole has to be used almost immediately for a fresh product, so Cane Land will only be able to produce cane rum during their harvest season. Photo: Julie Stewart.
Therefore, during "grinding season," which is when the cane is harvested and processed, Cane Land will be utilizing the fresh cane juice to produce their rum. "Once the grinding is over, that opportunity is gone," says Tharp. "But we'll be able to distill molasses-based spirits all year long."
Vendome Copper is manufacturing their main still, but Cane Land also acquired a special, additional piece of hardware. "We've got an alembic still that we got from some folks in Cognac, France," says Tharp. "It's really a treasure. We'll be doing the fruit varietals with the alembic and given the landscape of Louisiana agriculture, there's not going to be any shortage of opportunities. It's going to be great."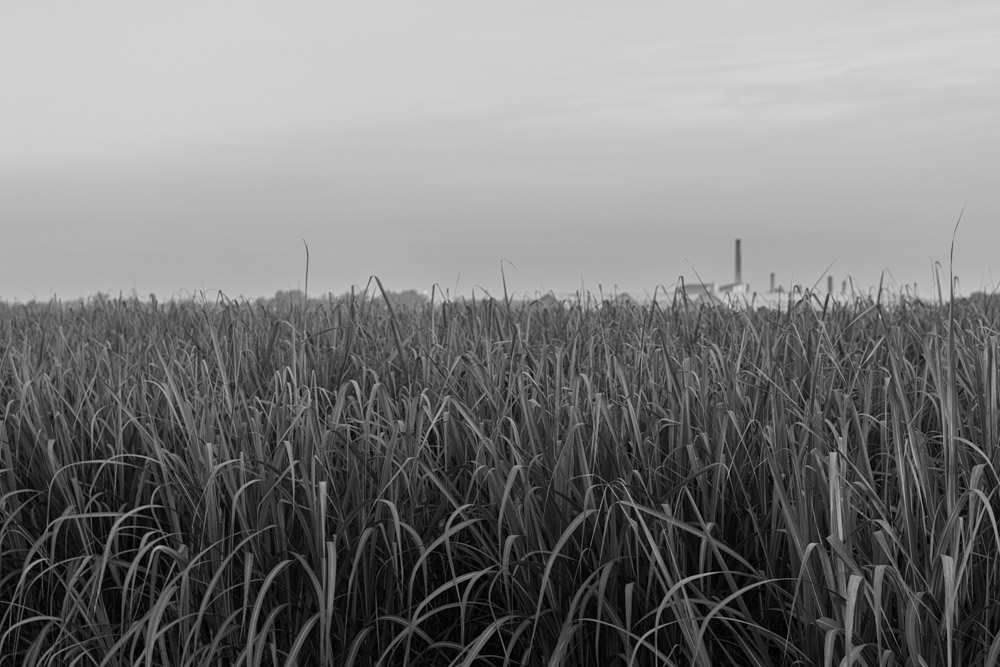 Tharp says he hopes that Cane Land's products will capture the terroir of the Mississippi Delta, which is renowned for its deep, fertile alluvial soil. Photo: Julie Stewart.
Tharp also hopes that Louisiana provides another benefit for Cane Land's spirits. "The terroir of the Mississippi Delta is just insane," he says.
"You have 15 feet of alluvial soil, and it's arguably the best soil on the planet, the most fertile. Look at some of the Caribbean nations, and they are four feet deep in alluvial soil. So we're looking for something really unique, a little more grassy, a little more indicative of the actual cane."
Distillation should begin this summer, with plans to really amp up production in the fall — just in time for the next sugarcane harvest. Photo: Julie Stewart.
Distillation should begin this summer, with plans to really amp up production in the fall. "Our real, main driver is to be in full swing by the time grinding starts, which will be September-October timeframe as far as being able to capture that fresh cane juice," says Tharp. "It's been a long haul getting things up and running … it's taken us a little longer than most to get going but we're trying to do things in what we believe is the right way, which is completely authentic and honest and I think it's going to pay off for us in the long run."
Rarely does a visit to a distillery mean seeing where the spirit truly originates, but in the case of Cane Land, visitors can see the sugar cane grown for distillation at Alma Plantation. Photo: Julie Stewart.

Soon guests will be able to do more than just tour Cane Land's downtown Baton Rouge distillery, they'll get the chance to go mere miles down the road and walk the fields where the cane is planted and harvested, all by their own team. Single estate, Louisiana-terroir fueled rhum agricole is on the way. Keep an eye out — or at least a glass ready to be filled.
Single estate, Louisiana-terroir fueled rhum agricole is on the way, and it will be well worth the wait. Photo: Julie Stewart.