If you haven't noticed, we're big fans of milk punch around here. The rich seasonal beverage is steeped in history, yet bartenders have taken up the mantle of reimagining what this centuries-old classic can become for modern drinkers. As Robert Simonson at the New York Times reported in 2014, guests have clearly caught on as well — the punch has definitely acquired its own kind of cult following among cocktail enthusiasts and bartenders alike.
Here, bartender Stephen Kurpinsky shares his own technique for creating a clarified milk punch imbued with a touch of flavor that will immediately conjure childhood nostalgia for many: the delicious elixir that is the leftover milk at the bottom of a bowl of Froot Loops. Read on for a step-by-step look at what goes into the making of his "Follow Your Nose" cocktail (the full recipe is listed in its entirety below):
All photos courtesy of Jim Sullivan/Medium Raw Arts.
First, peel your lemons — you'll want eight of them.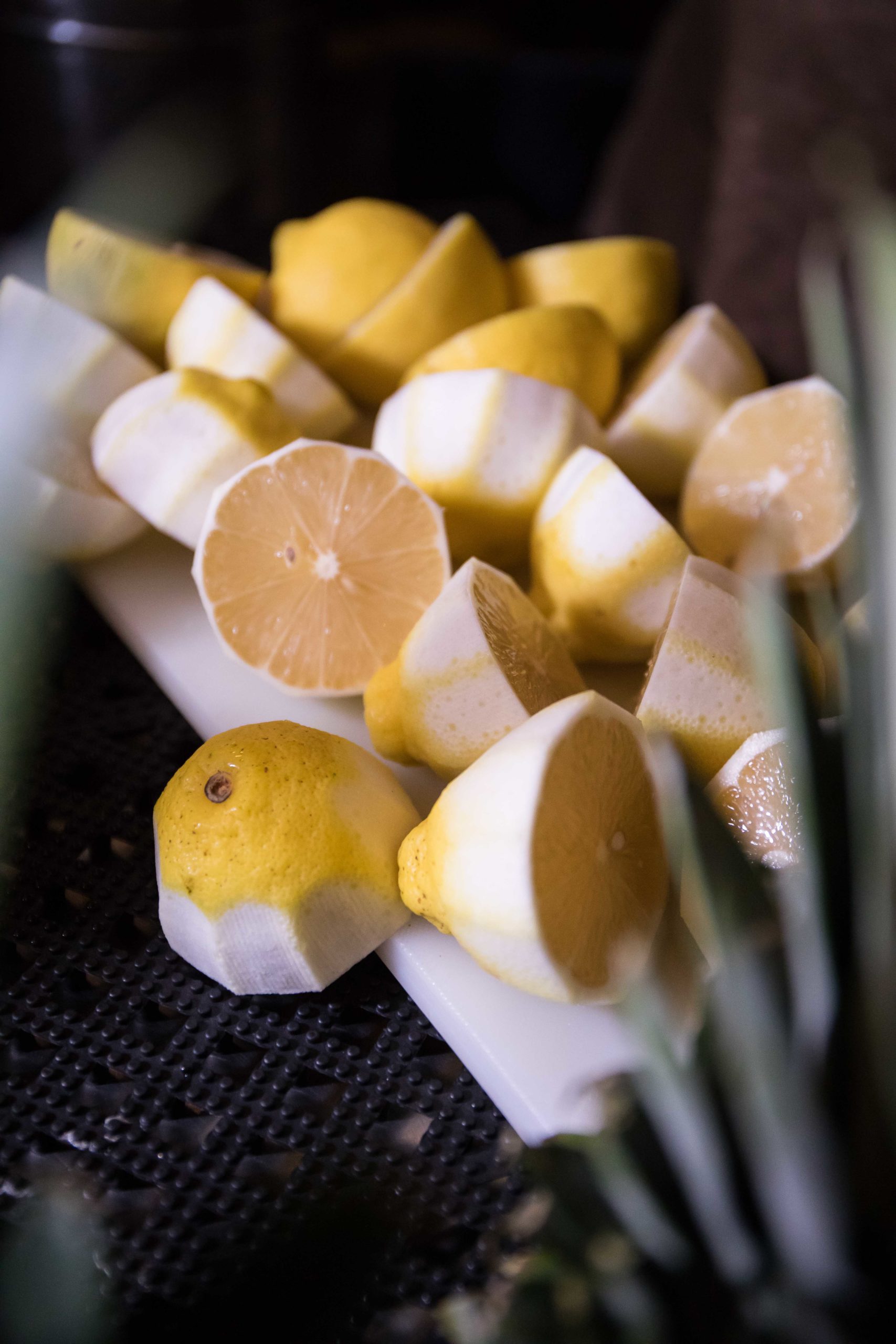 Chop your two pineapples, peel skins and loosely cut into chunks.
Add a quart of sugar to a large container — this will extract the oil from the citrus peels.
Toss your pineapples into the sugar, along with your lemon peels and the juice of 12 lemons.
Express your cinnamon sticks, cloves, coriander and star anise pods by grinding with a mortar and pestle.
Stir up your mixture so that fruit, spices and sugar are combined.
And now you have the foundation of your punch recipe. From here, you'll add all of your spirits and hot tea before allowing the combination to macerate for 24 hours.
From here, you'll add all of your spirits into the oleo base: 16 ounces of Singani 63, Batavia Arrack, mezcal, white rum and dark rum; 10 ounces of Pernod; and 8 ounces of Pernod Absinthe.
After adding your spirits, stir everything to combine.
Now, brew eight ounces of orange blossom oolong tea and add the hot tea to the mixture, along with 16 ounces of hot water. From here, you'll want to quickly cover the container and allow it to macerate for 24 hours.
After allowing the combination to sit for 24 hours, you'll strain out the solids, gently pressing the mash through a sieve to get the pineapple's juices.
Now, it's time to start on your cereal milk. Add a half gallon of milk and a third of a box of Froot Loops (or your inner kid's preferred cereal of choice) to a large saucepan and bring to a boil.
Once boiled, carefully pour the cereal and milk into a separate container with 10 ounces of lemon juice. The lemon juice will begin the process of curdling, which will separate the milk's liquid and solids.
Combine your punch mixture with your cereal milk mixture. From here, you'll allow the combination to sit for two hours so it can come down to room temperature. Once that's happened, strain the large curds out by pouring the mixture through a sieve or chinois. Leave the liquid in a cool, dark place (or refrigerate) overnight so it can separate. After separation occurs, use a large ladle to scoop off the top and run the mix through a Superbag or coffee filter to strain it.
Bottle the mixture.
For this cocktail, Kurpinsky hand-carves an ice ball.
Pour your clarified milk punch over ice…
…and garnish with a few artfully placed Froot Loops.
The final product, complete with appropriate garnish.
Recipe: Follow Your Nose
Ingredients
1 quart of sugar
2 pineapples (loosely cut, without skins)
Peels of 8 lemons
Juice of 12 lemons, plus an additional 10 ounces of lemon juice
10 cinnamon sticks
10 cloves
2 tablespoons of coriander
2 star anise pods
16 oz Singani 63
16 oz Batavia Arrack
16 oz mezcal joven
16 oz white rum
16 oz dark rum (preferably pot stilled, or slightly funky)
10 oz Pernod
8 oz Pernod Absinthe
16 oz orange blossom oolong tea
8 oz hot water
1/2 gallon of milk
1/3 of a box of Froot Loops (or your favorite sugary cereal)
Instructions
Start the oleo saccaharam by macerating the peels of 8 lemons with the sugar
Add in the pineapples, lightly pulverizing with a muddle.
Express the spices with mortar and pedstal, add to mixture
Add lemon juice and stir together.
Add all spirits and liqueurs then stir to blend.
Add tea and hot water to start maceration process, cover quickly and let sit for at least 24 hours
Strain out solids, lightly pressing the mash to get some of the juice out of the pineapple
Add fruit loops and milk into a large saucepan and bring to a boil
In a new large container, add 10oz of lemon juice, then add the boiled cereal milk to the lemon juice, which will begin to break the milk into its two parts
Add the punch to the milk mixture
Let sit for 2 hours to cool to room temperature
Strain the large curds out by pouring mixture through a sieve/chinois
Let separate overnight
Using a large laddle, scoop off the top and run through a Superbag or coffee filter to strain to as close to clear as possible
Bottle and enjoy!