Chartreuse. It's one of those spirits that gets better — and gains in monetary value — with age.
And if you know a few tricks — and understand how to date a bottle — maybe you'll find one of those 1969 distillations that's worth hundreds of dollars, or an even rarer 1930s bottle worth even more.
Both the green and yellow versions made by Carthusian monks age well. "The yellow is more harmonious whereas the green is more complex, but they're both amazing," says Tim Masters, director of specialty spirits for Frederick Wildman and Sons, which imports Chartreuse to the United States. "Chartreuse eats sugar, and it mellows with age. Some say Chartreuse yellow ages more eloquently whereas Chartreuse green has an angry, wonderful aging. The green is that angry uncle whom you love so much, whereas the yellow chartreuse is that debonair friend who is a little older and more sophisticated."
Masters recently conducted a Tales seminar about this alluring elixir. The first way to date a bottle, he says, is to look at the six-digit number on the lower gold band at the top of the bottle. Take the first three digits, and then add them to 1084, the year the Carthusian order was formed by St. Bruno when he and his monks founded their monastery in the Chartreuse mountainside. Say, 1084 + 932, and you get the year 2016. Then, the second three-digits represents the days into the year that the Chartreuse was bottled — say, 021, would mean January 21 whereas 363 would mean December 29.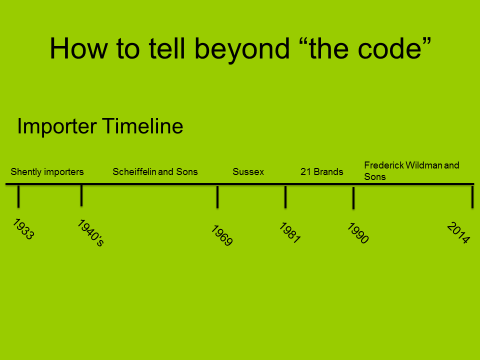 This timeline, provided by Tim Masters, shows the history of importing Chartreuse, crucial when it comes to identifying the age of the spirit.
But that's only to find the date of Chartreuse that has been bottled since 1991, when these numbers first started appearing on the bottles.
The second thing to look for is the importer. Frederick Wildman and Sons have been importing Chartreuse since 1990. From 1981 to 1990, 21 Brands was the importer, from 1969 to 1981, Sussex was the importer, from the 1940s to 1969, Sheiffelin and Sons imported it, and from 1933 until the 1940s, Shently imported it.
The third detail to look for is whether the bottle has a black or a silver cap. The company switched from silver to black caps in 1980, so if you discover a silver-capped bottle of Chartreuse, you know you've got a good one.
There are three main ways to find a rare or rarer bottle of Chartreuse. The first is to go "bottle dusting," Master says. "That's how I found one at the old Sardi's restaurant in New York City," Master says. "I looked down, and on the bottom shelf was a dusty bottle with a silver cap, and I'm like 'Oh, my God,' so I asked for it. The bartender poured me four ounces and charged me ten dollars. It was amazing — it was so good."
Many urban residents are wise to the silver cap clue for a valuable bottle of Chartreuse, so Master suggests looking in random suburban or rural liquor stores — older bottles might be lurking in a dark corner.
You can also find older bottles at estate sales, where Grandpa or Grandma passed on, and their grandkids don't know the value of a half-drunk silver-capped bottle.
A lineup of modern-day Chartreuse from Frederick Wildman and Sons, who have been importing the liqueur since 1990.
And lastly, you can go to collectors, who often have rarer versions. One such version has Fabrique par Tarragona written on the label. In 1902, the monks moved their distillery from France to Tarragona, Spain because the French government wanted to take over distilling the liquor. In the 1930s, they resumed operations in France, but they also kept the Spanish distillery open until 1989, and those distillations were primarily sent to South America. "These bottles are hard to get, but if you travel to Argentina and Brazil, you might find one," Master says.
Collectors and would-be collectors might also just want to go to whatever corner liquor store they frequent and stock up on four or five bottles of current distillations of the spirit. In the last 400 years, Chartreuse has been manufactured at four different distilleries, the latest of which is in the French city of Voiron. Next year, the monks are moving their distilling operations, so now's a good time to stock up on Chartreuse with Voiron on the label.
"Buy three or bottles now, and stash them away because they'll stop making them at the end of the year," Master says.